Ignite a New Year's business idea with SPARK; Council's innovative business support programme!
Friday 6 January 2023
Are you looking for a new start this New Year? Do you have a business idea in mind but are not sure how to take it to the next level?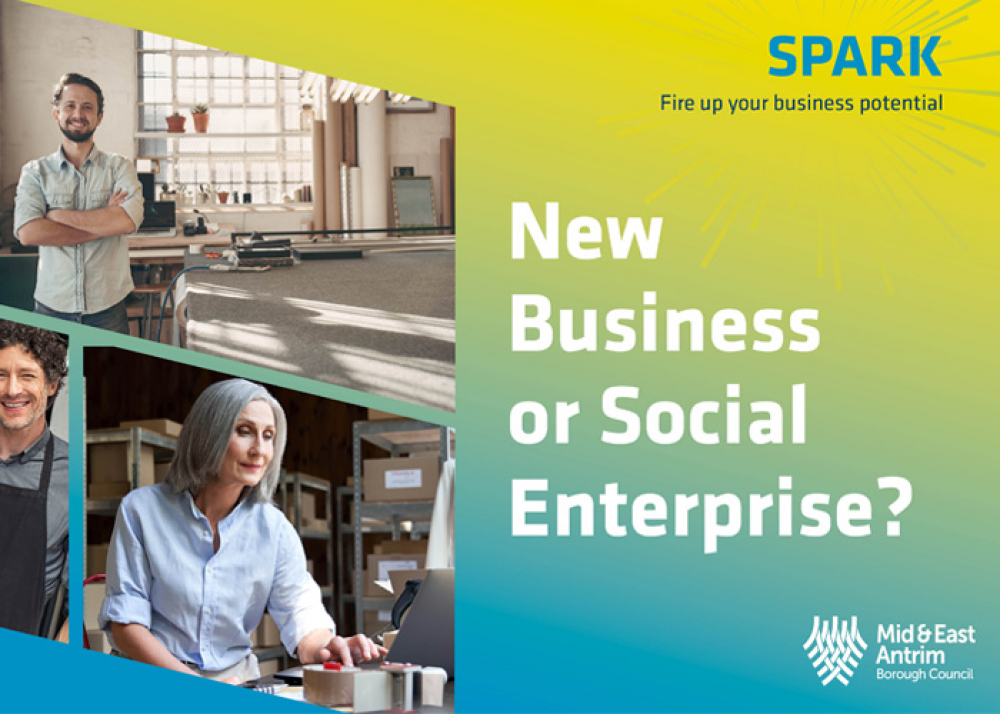 Mid and East Antrim Borough Council's innovative support programme 'SPARK' can help you take the next step!
'SPARK' provides free specialist mentoring support to businesses across the Borough that are in their early stages of development.
Tailored to people's own individual needs - the programme provides support and assistance to new businesses and social enterprises as they navigate the business environment.
The programme has helped close to 100 new start-up businesses locally, providing over 750 hours of specialist mentoring support on key business areas such as start-up support, establishing a social enterprise, financial management, innovation support, sales and marketing plus website development and development.
Rhyan McCoy, founder of Hampton Roast Coffee in Larne, took part in the SPARK programme last year. He accessed tailored advice and mentoring - specialising in sales & marketing.
Rhyan said: "When I launched Hampton Roast Coffee in January 2021, I accessed mentoring through Invest NI which suggested that I also contact Mid and East Antrim Borough Council for support through their popular SPARK programme.
"I was matched with a mentor who supported me with online sales & marketing. I had little experience running a website for business purposes and my mentor assisted me with navigating the minefield of SEOs, Google Analytics, LinkedIn and Social Media content creation.
"The programme was flexible and I was able to complete the mentoring around my job and family - allowing me to learn at my own pace.
"With my mentor's guidance, I was able to simplify my branding, give my website a consistent feel and make my social media posts stand out more - creating a more refined product look.
"Through completion of the programme, I was able to access further support through MEA's Business Escalator+ programme - looking at the financial aspects of a business.
"My hard work and determination paid off - in less than one year my company won the Sustainable Business Award at the Larne Business Excellence Awards in November 2022!"
Supporting the continued success of the programme, Mayor of Mid and East Antrim, Alderman Noel Williams, said: "Mentoring support through SPARK continues to address a gap in 'early stage' support between 'Go For It' and our suite of Business Growth interventions. It is great to see the achievements and successes of our local SMEs and watch them grow and reach new markets."
To find out more about SPARK please visit the Spark webpage where you can register your interest and a member of the team will be in touch to discuss your requirements.
You can also e: amplify@midandeastantrim.gov.uk or T: 028 2563 3363.