Beautiful work on display at The Braid
Wednesday 1 November 2023
The Mayor of Mid and East Antrim, Alderman Gerardine Mulvenna, officially opened a new exhibition at The Braid on Friday evening showcasing high quality art and crafts work by the County Antrim Open Studios group (CAOS).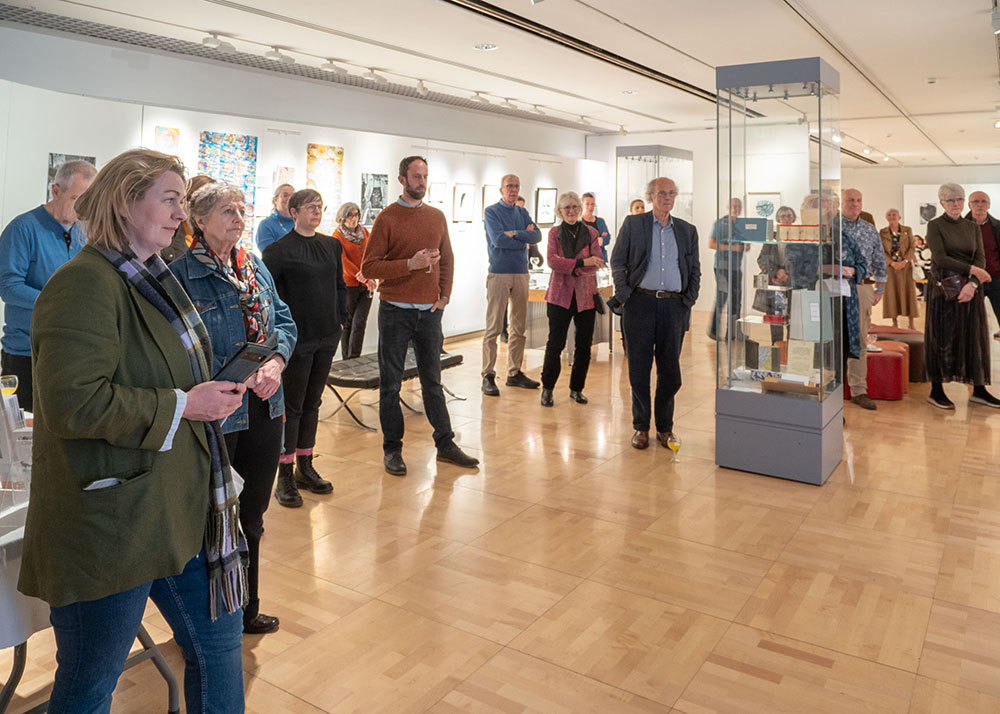 She was joined by special guest Hector McDonnell of Glenarm Castle.
The 'Beautiful Work: Artists and Makers and the Creative Process' exhibition marks the first year of CAOS and showcases the work of a wonderfully diverse group of artists and makers including visual artists; ceramicists; textile artists; jewellery makers; and a bookbinder, a wood carver, and a sculptor among others. It is unique in bringing together pieces from a wide range of artistic and creative genre and it includes exhibits that have been created using traditional skills dating back many years as well as those using contemporary and innovative techniques.
The Mayor said: "This is a fabulous opportunity for Council to support the work of County Antrim Open Studios to highlight the wealth of talent within the group in the visual arts and contemporary crafts. I would like to commend their forming a group to share how they work with a much wider local audience. I also recognise that working as a collective they are an important asset for tourism in Mid and East Antrim and the wider county.
"I hope that visitors to the exhibition, including local secondary school art and design students will be inspired by what they see and hear for their own creative studies."
Rosanne Cecil, Chair of County Antrim Open Studios, said: "The launch this evening of our first exhibition is an exciting moment for all of us involved with County Antrim Open Studios.
"We are delighted to be presenting the work of many of our members in the beautiful gallery space at The Braid. We hope that this exhibition will highlight the work of the many talented artists and craftspeople who live and work in County Antrim and will encourage visitors to come and see us making and creating in our studios and workshops."
This is the group's inaugural exhibition, working with Mid-Antrim Museum, and features work by 15 artists and makers from across County Antrim.
County Antrim Open Studios (CAOS) is a network of local artists and makers who welcome visitors to their studios. Their members not only like to show people their work, but they also like to talk about and illustrate some of the skills and techniques involved in their creative process.
There will be an opportunity for museum visitors to meet the maker across a series of dates whilst the exhibition is on between 27 October and 30 November 2023.
Please look out for Council's social media posts for details or contact Mid-Antrim Museum for more information by email: braidmuseum@midandeastantrim.gov.uk or telephone Mid-Antrim Museum any day except Thursday on T: 028 2563 5030.
A Meet the Maker schedule will also be available at The Braid reception and in the exhibition gallery.
To find out more about County Antrim Open Studios please visit their website.